REIT Magazine: The Growth of Green Street Advisors
According to REIT.com:
The growth of influential research firm Green Street Advisors mirrors the rise of REITs.
1/31/2017 | By Dawn Wotapka
Published in the January/February 2017 issue of REIT magazine.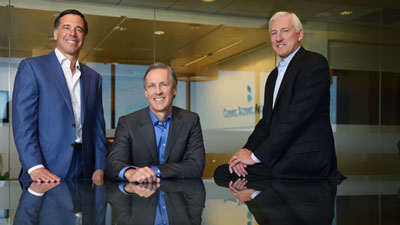 Back in 1985, when big hair reigned supreme and glassy towers dominated skylines, Mike Kirby and Jon Fosheim decided to set up a West Coast research shop specializing in REITs.
It turned out to be a once-in-alifetime opportunity to not only build a successful business, but also to help shape an industry that has set the standard for the ownership and operation of everything from upscale office buildings to everyday shopping centers. What's more, the industry's surge in popularity has allowed for everyone from small-town doctors to big-city lawyers to profit from large-scale, professionally managed real estate, something once available to only select investors.
"Green Street Advisors is one of the most recognized names in the REIT industry," says Ric Campo, chairman and CEO of Camden Property Trust (NYSE: CPT), one of the nation's largest apartment owners. Despite this, the firm's culture remains humble and humorous. "I'd like to say that we had a grand vision and we knew that REITs were going to grow in size by [100 times over in] the next 30 years, but that was not the case," says Kirby, chairman and director of research. "We've always been optimistic about the prospects of the REIT industry, but we did not see the boom coming." Boom might be an understatement for both sides. Green Street started at a time when the sector's market cap was a sliver of the $1.1 trillion FTSE NAREIT All REITs Index equity market capitalization.
Over time, the firm has grown from a pair of employees sharing a desk in 250 dark square feet to about 130 staffers, many of whom work out of its headquarters in California's tony Newport Beach. Employees have been known to work in shorts and sandals, and callers are used to the company's reggae hold music.
What sets Green Street apart is more than office attire and an affinity for Bob Marley. For starters, the firm doesn't count on income from investment banking.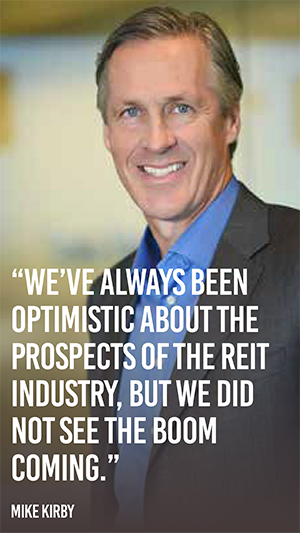 "We have always been independent and conflict free," says Craig Leupold, an early employee who is now chief executive officer. "It allows us the freedom to really call things as we see them. We never have to worry about pointing out a flaw in a company or pointing out a flaw in a strategy."
Milton Cooper, chairman of Kimco Realty Corp. (NYSE: KIM), credits Kirby as one of the REIT industry's more influential figures.
"He is a passionate, articulate advocate that the REIT is the best way for investors to own real estate. He saw the potential for growth and, in effect, the democratization of ownership of real estate."
Cooper would know. He says Green Street helped turn his shopping center company into one of the nation's largest REITs.
"By being independent and not being involved with investment banking, they had an aura of objectivity and a clean approach. Everyone thought they were straight shooters," he says. "I haven't agreed with everything – they have been critical at times – but I think it has been well done."
Heard on the Beach
Green Street boasts about 530 research clients, a who's-who ranging from chief executives at some of America's largest companies to fund managers deciding on multi-million dollar stock investments. The company "has developed a strong brand value with its unique approach, which we expect to continue to be influential with investors," says John P. Case, CEO of Realty Income (NYSE: O), which is covered by Green Street.
"In many respects, we are the eyes and ears to most of the providers of [real estate] industry capital," Leupold says. "We've kind of helped monitor the industry and ensure that only the best and most reputable companies have basically made it through the IPO gates and are in existence today."
Green Street's subscribers include Joe Harvey, president and chief investment officer of Cohen & Steers, a New York REIT investment firm that was founded around the same time as Green Street.
"Green Street was a pioneer in researching REITs and, frankly, helping to shape the business model for the modern REIT era," he says. "They're very smart, intellectually honest and have taken an industry, the real estate industry – which historically has not been one that had a lot of analytical rigor ingrained in the players – and defined how to analyze and value real estate and REITs. It had been an industry that historically was built on forecasts built on hope and bravado."
"Sleepless Nights"
Even though Kirby credits Green Street's California headquarters with helping its team avoid the "conventional wisdom" found in New York City, the firm was actually conceived at the Green Street Café on Manhattan's Greene Street—hence the name.
Kirby says neither he nor Fosheim (who is no longer with the company, but serves on multiple REIT boards) were looking to break into REITs, let alone help shape an industry, when they set up shop back in the mid-'80s. But the pair – neither was a research analyst – was looking for opportunity in distressed real estate debt and came across a secondary equity offering for a REIT. After reading the Wall Street research, the duo decided they could deliver better analysis by visiting the physical properties, Kirby recalls.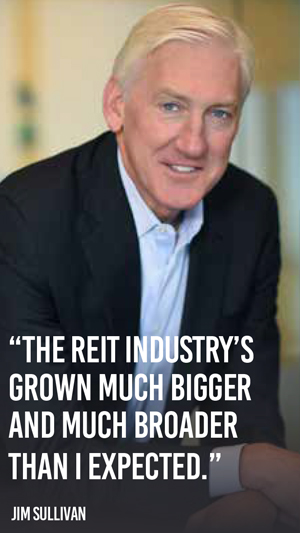 The firm's first note covered Weingarten Realty Investors (NYSE: WRI). While notable names such as Fidelity and Cohen & Steers were early clients, "like any startup, we had sleepless nights," Kirby says.
Things changed after a call from Cooper, the co-founder of Kimco, which had been advised by others against going public. Cooper recounts that Green Street saw the potential for a public offering, and the research firm helped solidify Kimco's corporate governance and disclosures and align interests between shareholders and the management team.
That 1991 IPO ushered in the "modern REIT era." Jim Sullivan, who became Green Street's sixth employee when he joined in 1994 and is now president of the Green Street Advisory Group, says the space's equity market cap was $11 billion at the time. He thought it could "maybe grow to $100 billion," he recalls.
"Our industry's grown much bigger and much broader than I expected."
Between 1993 and 1994, dozens of real estate companies tried to go public, according to Green Street, which provided analysis on 50 of them.
"Whatever Green Street had to say was awfully important to the deal," says Kirby, adding the firm suggested that aspiring REITs clean up corporate governance and excise any conflicts of interest. Such principles continue to guide the industry and attract investors now.
Expanding the Business
Given its vast library of valuable and trusted research, Green Street has expanded. It now operates the Green Street Advisory Group, which helps owners and investors think through capital allocation decisions. Furthermore, the division assists companies in implementing the "best practices" that Green Street believes will maximize a company's share price.
Additionally, Green Street has beefed up its European presence. "That has been sorely needed," Harvey says. "They have successfully taken everything they've learned in the U.S. and applied it to Europe."
In 2014, Green Street launched a Real Estate Analytics product focused on private commercial real estate, which makes up roughly 85 percent of the total U.S. market. Leupold is bullish on the business potential for private information, which is focused on eight sectors in 50 top markets, such as San Jose, New York, Chicago and Dallas. "Exciting enhancements" are being rolled out in 2017, Leupold adds.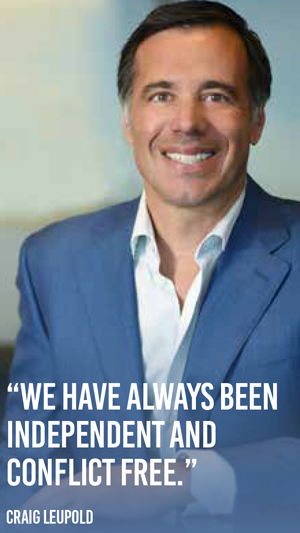 "As the industry has grown, the participants have grown, the capital has expanded and the vehicles have expanded, Green Street more thoughtfully upped their game across many fronts of research and analysis and helped investors compare and contrast the fundamentals and valuations across the many property sectors that we have today," Harvey says. "They've done the same thing in comparing the state of fundamentals and relative valuation in the private and public markets. I believe that not only have they helped shape what REITs are today, I think they've also helped the private market improve their game with respect to the rigor and analytical honesty about how to analyze real estate and assess investment opportunities."
Now that Green Street has weathered its fair share of market cycles and expanded its offerings, Leupold sees nothing but growth ahead—for Green Street and for REITs.
"We have invested and grown with the industry. We, frankly, have evolved. We've maintained a consistent model," he says. "We continue to be very optimistic about the REIT market in general. The securitization of real estate is a powerful trend that will continue."
NAV is Key
When assessing a real estate company, Green Street focuses on net asset value (NAV). Over the years, the firm has become proud and protective of its NAV estimates, refusing to allow the media to reprint the values it assigns to real estate assets.
"The concept of calculating a net asset value is a simple concept, but to get it right requires relationships," Sullivan says. "You have to build a mosaic of what things are worth — getting better information than others are getting and rolling that into a very thoughtful" analysis.
Dozens of Green Street researchers visit publicly held real estate assets across the country.
Researchers pay attention to property in small cities that might be overlooked.
The approach delivers results: Since January 1993 through the end of 2015, Green Street's "buy" portfolio delivered an average annualized return of 24 percent, while the hold portfolio saw gains of 11 percent and sells managed a 1 percent return. For the same period, REITs overall returned 11 percent.
Green Street's 2017 Outlook
"Green Street remains bullish on real estate fundamentals, but rent growth is slowing across most property sectors. Recent revisions to forecasts have been flat to down slightly, with self-storage forecasts seeing meaningful cuts. Apartments, which have seen rampant construction in recent years, are seeing weaker rent growth and expect a more challenging 2017. Office fundamentals remain healthy, though New York City is slowing. Retail space is seeing bifurcation between high-end and ho-hum malls, while strip centers remain healthy. The industrial sector is the only space surprising to the high side, as e-commerce remains a massive tailwind.
"With respect to asset values, property appreciation has also slowed to a crawl as investors digest higher interest rates and policy uncertainty around a new president. Values appear stickier for core assets, but are likely down slightly for lower-quality assets in secondary and tertiary markets. Green Street expects values to trend roughly sideways in 2017, as signals from the corporate bond and REIT markets indicate real estate is fairly valued."
– Andy McCulloch, Managing Director of Real Estate Analytics
To view the article on REIT.com, click here.