Month in Review: Five Must-Read U.S. Research Reports
Below are excerpts of five Green Street Research Reports that piqued the interest of our readers in July 2023.
Data Center Insights: Artificial Intelligence - Buy the Hype or Sell the Data Center Sector?
July 6, 2023
Odds of finding a human who hasn't heard about artificial intelligence (AI) over the past six months are slim-to-none. Whether it's through the wildly successful ChatGPT app, countless news outlets reporting on the subject, or watching NVIDIA Corporation's equity market cap rise by ~$250 billion in one day due to AI-related optimism – the world has been captivated by this buzzword. But is the hype real? Or are we in for a letdown like prior emerging technologies that failed to meet expectations ranging from 5G to the Internet of Things to the Metaverse?
Office Insights: A Look into Office Values by the Pound
July 17, 2023
There is little debate in saying that office values are down, however, given a dearth of private market transactions, there is much debate with regard to how much office values have fallen thus far and how much farther down they may have left to fall. Green Street's Commercial Property Price Index (CPPI) indicates that A-quality office values are down ~35% since pre-Covid highs.
Residential Insights: SFR Capitalizing on New Lower Back Problems
July 19, 2023
Housing needs change as people continue to age through their life cycle. As a result, different property types cater to differing demographics, particularly in later stages of life. Many individuals will also weigh the value each property type may offer, whether it is becoming a homeowner or deciding between rental options like single-family homes and apartment units. As a result of recent increases in shelter costs broadly there is an apparent value proposition present in rental housing, particularly in single-family rentals (SFR). Over the next five years aging millennials will continue to support demand for the sector. This report explores the demand trends that are becoming increasingly supportive for single-family rental (SFR) fundamentals.
Property Insights: Wall of Worry
July 26,2023
The ebb and flow of credit availability can have important ramifications for real estate prices. In general, when credit is created, transaction activity increases, pushing up prices and making borrowers look more creditworthy. The opposite occurs when credit contracts. As such, the willingness of lenders to extend credit and roll over debt maturing can have a meaningful impact on property values. Today, less favorable loan terms could result in owners needing to shore up additional equity to renew maturing loans and a failure to do so could result in forced sales, leading to further declines in real estate prices.
The CMBS market is a key source of credit that benefits from transparency compared to other real estate loan sources. It allowed Green Street to study a sizable group of loans with large maturities in the next few years with an emphasis on office, retail, lodging, multifamily and industrial properties. Office and retail properties have seen declines in asset values over the life of maturing CMBS loans, resulting in a sizable risk that investors will need to inject equity capital for lenders to provide fresh loans at reasonable LTV ratios. In addition, high levels of maturing debt magnify the risk of distressed asset sales in these sectors, likely creating the conditions for an overshoot to the downside. Appraisers would need to mark asset values downward, which could spiral into a rush for the exit in a generally frozen transaction market. As such, investors should keep an eye on the wall of near-term debt maturities and the behavior of lenders in supporting refinancing.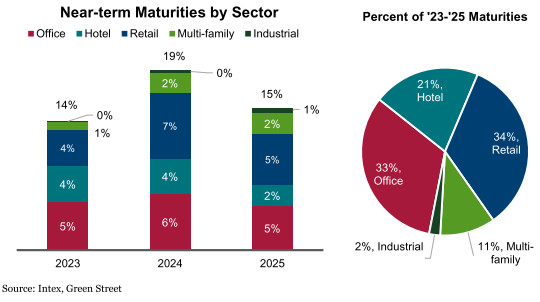 Self-Storage Insights: RentTracker Update – Declines Continue
7/27/2023
Green Street's Self-Storage RentTracker provides a systematic approach to estimating changes in rents charged to new customers, a key component of revenue growth that isn't formally disclosed by the REITs (except PSA). The results serve as an early read on REIT expected revenue growth performance. The takeaway for 2Q23 is that move-in rents continued to decline (YoY) in the double-digit range as new demand remains sluggish throughout peak leasing season. However, it bears reminding that move-in rents are only one part of the revenue growth equation, along with changes in occupancy and rent charged to existing customers.
Overall, these trends together have shaped up to combine for a fairly uninspiring peak leasing season and suggest there is downside risk to our FY23 SS-NOI growth estimates for all self-storage REITs covered.
For insights like these delivered straight to your inbox every week, contact us to subscribe to Green Street's U.S. Research: Contact Us | Green Street.
Learn more about our insights
Our thought leadership helps thousands of clients make better investment decisions every day. Inquire here to learn more about Green Street's product suite.
More Stories
---
ESG & Property Insights: Your "E" Sensitivity Training
Real Estate Alert

,

Distressed Debt
Banks Report Fewer Bad Loans… For Now
Annual Mall Grade Review: Mall Performance Improves